Territory Management Solutions for Insurers
Problem: Outdated systems and manual processes can jeopardize sales growth across complex insurance distribution networks.
Today insurers that offer a broad range of protection and financial services products are facing increasing complexities across their sales ecosystems, often struggling to maximize productivity amongst their vast networks of distribution partners. These networks often include a complex mix of wholesalers, brokers, agents, and advisors.
Homegrown systems and manual processes are the primary barriers to sales and distribution effectively handling thousands or, in some cases, millions of agent appointments per year. And to do so in a manner that aligns with delivering on their sales strategies and objectives. When inefficiencies creep into these processes, profits and future growth are at risk.
Voiant's work with insurers of all sizes often starts with the challenge of improving their territory management capabilities. We help clients to envision a future where sales and marketing leaders are empowered with the necessary tools and technology to answer their most important business questions. We achieve this by using best practices and leading technologies designed to improve sales performance management for insurance.
Solution: A single, consolidated view of territory management with leading technologies and the Voiant Sales Data Desk™
To tackle these challenges head-on, Voiant partners with leading technology companies to deliver integrated planning solutions across the enterprise. Voiant's proprietary Sales Data Desk™ framework provides insurers with the solution essential to achieve dynamic territory management capabilities.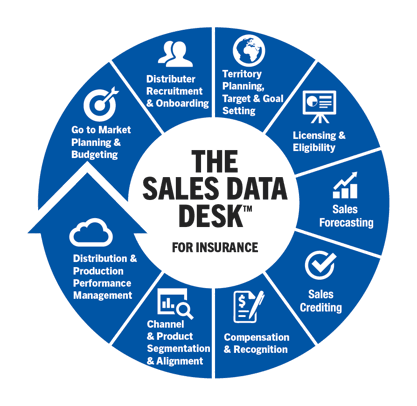 Harnessing the power of leading technology platforms, the Sales Data Desk™ provides the framework for the data and functionality required to bring territory management into a single view and make it available to everyone. Our team engages with our insurance clients to gain insight into their unique business challenges and collaborates to design practical solutions that solve these problems. For some insurers, this has meant consolidating dozens of data feeds, aggregating them, and making them accessible, all with the click of just a few buttons. Our solutions enable sales teams to better understand their territories with new insights, including:
Territory Definition & Assignment Rules

Wholesaler Alignments

Distribution Channel Management

Agent Appointments

Firm Alliances

Payment Relationships

Goal Allocation
Outcome: Increased Confidence, Ease of Decision-Making and Efficient Execution
With Voiant, insurers are armed with new knowledge, increased confidence, and easier decision-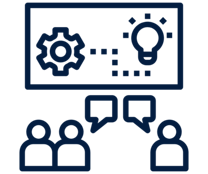 making across the sales team. The result? More efficient operational processes and the ability to react to changes in the market faster than ever before. Wholesalers and other partners know where to go, who to talk to, and how to focus their energy. When all a company's data is aggregated together, and every territory has bought into using the tool, commissions aren't a mystery to anyone.
As insurers continue to adopt and mature this capability, they can expect to see even greater benefits from managing territory structures dynamically, with new analytic capabilities and insights to expand their sales pipeline and boost results.
Making it Happen
Successfully executing complex change to deliver dynamic territory management can be extremely impactful, but it can also be daunting to commit to getting started. Changing complex processes like these can feel overwhelming, raising questions like:
Our company is too big, how would we ever implement it across the organization?

Our process is so complex how would we simplify it?

Where would we even start with an update like this?
We understand and have seen the benefits of working first-hand with clients to overcome these challenges. Voiant tackles these worrisome thoughts head-on in an introductory workshop. We begin by understanding the current state of your data and capabilities. Next, we walk through our Sales Data Desk framework to help you define a better solution moving forward and show you how practical, agile, value-driven changes transform sales processes from an outdated, poorly integrated system to a dynamic territory management solution that puts you in control.
The Sales Data Desk™ solution
is an integral part of creating a more collaborative experience across functional areas of an insurance organization and in crucial sales planning activities, even beyond territory and quota planning.
What Sales Leaders Have to Say:
"With this solution, our future looks bright. Bringing together our existing applications all into one consolidated solution will increase our delivery, lower our maintenance costs and give our partners more control to adapt to rapidly changing business drivers."
"We were hesitant to make changes within our sales team because we didn't know where to start, With the help of the Voiant team, our territory management system runs more reliably and quickly, with less support, and we're delivering more critical information to our partners and sales strategists."
"We're going to continue to adopt the new process and mature into the platform and expect as time goes on to continue to see great benefits from managing our territory structures and advance with new analytic capabilities and insights that will accelerate our growth."
Contact Us for a Complimentary 30-Minute Consultation