PerkinElmer Leverages the Power of Data Management for Sales Planning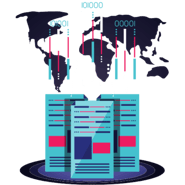 PerkinElmer, a global leader committed to innovating for a healthier world, initiated a project to implement a robust global incentive compensation and territory & quota solution. The focus of the project was to create one process that would streamline data management for goals, territories, reps, and accounts, and enable territory assignment changes and goal distribution across the entire organization through a standard, unified workflow. Another key objective was to provide the ability to model and perform analysis of 'what-if' scenarios to rules, rates, and tiers to ensure the Company could adjust needed based on business conditions.
Working with the Voiant Group, PerkinElmer was able to implement a new incentive compensation and territory & quota solution that brought value-add capabilities, such as providing guidance around compensation, goals, and territory management to executives and sales leadership.
Key Outcomes Included:
Assigned goals in a top-down manner with granular targets for product groups across geographic and account-based assignments
Created new dashboards and deployed them to the field in a matter of days
Investigated compensation disputes and made modifications to payouts through enhanced workflows and UX interfaces
Modified compensation with real-time analysis of results and saw an impact on payouts through what-if scenario
Reduced reliance on excel data management and analysis and shadow reporting, properly integrating solutions with ERP, HR, and external schemas
Interested to learn more about streamlined data management? Read our Compensation Consolidation case study for more examples of streamlined processes.
"The combination of the Anaplan platform and solution from the Voiant Group has enabled PerkinElmer to evolve our Sales Performance Management program to create one single source of truth for territory management, quota setting, and Incentive Compensation Plans (ICP). The global workflow designed and implemented has provided robust reporting capabilities that senior leadership can access and review to provide insights into our Incentive Compensation program portfolio and its alignment with business results."
-Jodi Vaughn, Director of Global Sales Performance & Planning – PerkinElmer