Anaplan Partner Accelerate Program Launch
Voiant achieves accreditation in Sales & Marketing Functions and Industry specializations in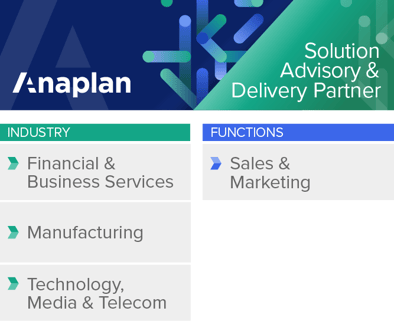 Financial & Business Services, Manufacturing, Technology, Media, and Telecom through the new Anaplan Partner Program, PartnerAccelerate.
The Sales & Marketing Function includes; incentives & rewards, quota modeling, territory planning, sales forecasting, marketing performance, and pricing & promotion.
The Industry specialization included in Financial & Business Services are business and professional services, banking, capital markets, and insurance. Within Manufacturing falls, industrial & automotive, tech hardware, life sciences, and logistics & transportation. While Technology, Media, and Telcom include tech software, media, and telecommunications.
To achieve accreditation, Voiant participated in an audit conducted by a third party and met a rigorous set of requirements across its sales, pre-sales, and delivery capabilities. This required Voiant to showcase expertise from client projects within each area of specialization.
PartnerAccelerate is a global partner program that will align partner capabilities with customers' needs, arming businesses with greater confidence, more distinct expertise, and faster time-to-value as they address their unique planning challenges.
"In an increasingly dynamic market, a partner's ability to provide credible best practices and trusted expertise is critical to help customers successfully manage the effects of change on their operations," said
Carla Moradi,
Senior Vice President, Global Partners and Alliances at Anaplan. "PartnerAccelerate will help deliver that level of confidence to customers as they identify and select the right partner for their business, and we look forward to working with our impressive partner network to help businesses around the world execute with agility, insight, and speed."
Voiant, founded on the belief that there was a gap in Sales Performance Management Expertise at large organizations, we were built to focus whole-heartedly on solving complex SPM challenges, so we're happy to showcase our expertise in the Sales & Marketing function throughout the Anaplan ecosystem and look forward to continuing to provide the solutions our clients need.